According to the Anycubic Predator specs, these features are the most interesting ones:
1. A Big Build Volume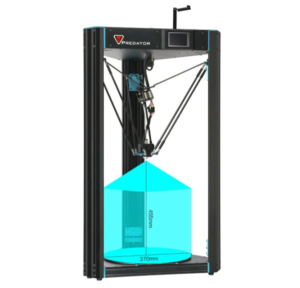 First things first: the large building volume might have been the printers namesake. Generally, Delta printers are somewhat limited when it comes to their print-volume, due to the building structure. Don't get us wrong, everyone can build a huge delta printer (as the guys from WASP are doing), but you really have to finetune it to get decent printing results.
The Anycubic Predator features quite possibly one of the biggest build-volumes of any Delta printer out there on the consumer market. With its 370 x 370 x 455 mm building volume it's just short of Tevos Little Monster's maximum height of 500 mm but outshines it regarding the diameter (Tevo "only" prints 340 mm in diameter).
2. Ultrabase Pro Heated Bed
It comes as no surprise that Anycubic obviously equips its printer with their Anycubic Ultabase Pro. It offers a strong adhesion during the print, due to a layer of porous coating, while simultaneously allowing you to remove the print without hassle once the platform has cooled down. Anycubic still includes a scraper in the package, though.
Also, the bed should heat up significantly faster, as the internal voltage was upgraded from 12 volts to 24 volts. According to Anycubic, the bed will heat up to 100 °C.
3. 37 Points for Auto-Leveling
While Anycubics Ultrabase is available for third-party printers as well, it doesn't automatically support auto-leveling: Some sensors have problems noticing the thin glass layer on top of the plate, leaving you to painstakingly level the bed manually. Not with the Anycubic Predator, though. According to its specs, it measures 37 points on the build plate and also supports real-time adjustment of nozzle height.
4. Sensors, Sensors
On top of that, the Anycubic Predator is equipped with a number of sensors.
a filament sensor which will alert you when the filament has run out or is broken.
another helpful feature is the Resume-Print-button. It comes in handy once the power gets interrupted. You then can resume your print, saving you hours or days having to restart over. Clearly, a "better have and not need, then need and not have"-feature, especially if you are planning to take advantage of the printers large building capacity.